Overview
The Falcon 50 utilizes a Collins EFIS 86C which includes dual Flight Management Systems and is the finest and most versatile "super mid-size" business aircraft ever built. Like the Falcon 900 with its unique three engine design, it can operate out of landing strips as short as 4,000 feet, has 3,000 nautical mile range, and can depart "hot and high" airports. The third engine provides an added safety margin when operating anywhere in the world. 
The stand-up (5'9") cabin seats nine people. The entertainment system features two large screen video monitors, DVD/CD player, Sirius Satellite Radio, and Airshow 400 with moving map and nose camera. The interior was completely redecorated in 2014 with all new leather goods, beautiful mahogany cabinetry, and super soundproofing.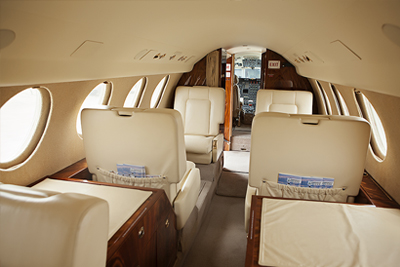 Forward Cabin
The forward cabin contains four club seats which swivel, recline and berth. There are two writing tables that stow while not in use. A 14" video screen serves this seat grouping.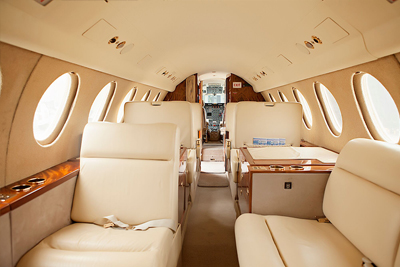 Mid Cabin
The mid cabin is comfortable and large, giving you plenty of room to move about in flight.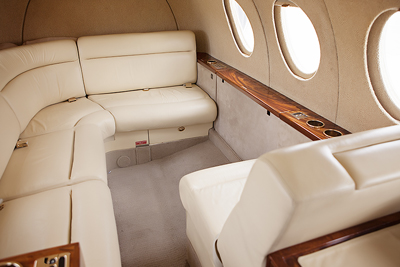 Aft Cabin
The aft cabin has a wrap-around "J" couch that seats four plus one aft-facing single seat. This five place grouping is very inviting and conducive to a business meeting or socializing. There is a large fold out table that serves all five seats in this area, as well as a 15" video monitor.
Galley
The forward galley is equipped with fine crystal and china, silverware, and accessories. A microwave, coffeemaker, and sink provide the necessities for the preparation of an excellent meal.
Baggage Hold
Unlike most of its mid-size competitors, the Falcon 50 features a separate heated pressurized luggage compartment. It can easily accommodate eight sets of golf clubs plus luggage for nine passengers plus crew. For comparison, the Falcon 50 has 115 cubic feet of luggage space compared to 60 for a Hawker 800XP.
Lavatory
There is one fully enclosed lavatory on board with toilet, sink and vanity providing privacy for the passengers and crew on long overnight flights.